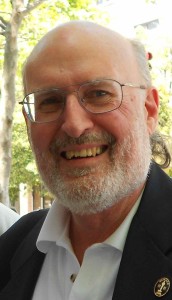 Ben Shedd, Professor, Digital Filmmaking/Documentary at the School of Art, Design and Media, Nanyang Technological University, Singapore [January 2014] and Professor of the Practice at Boise State University, Boise, Idaho, USA.
Academy Award winning filmmaker Ben Shedd has been a professional film & video director/producer writer since 1970. He has been producing and creating award-winning films and videos of social and intellectual interest since he began his production career and specializes in making science and technology documentaries. Ben has produced and directed 33 films and videos, including 3 IMAX productions, during his 43 year production career.
Since 1979 in parallel with his production work, Ben has taught University courses in film production, independent film business, and visual design at six universities, including his alma mater the University of Southern California's School of Cinematic Arts, the California Institute of the Arts, Art Center College of Design, the University of New Mexico's College of Fine Arts, Princeton University's Department of Computer Science, and Boise State University's School of Communication and Extended Studies. Ben was the 1989/1990 PNM Professor of Media Arts at the University of New Mexico, Senior Research Scholar and Lecturer at Princeton University, and is currently a Professor of the Practice at Boise State University.
Ben is now full-time Professor, Digital Filmmaking/Documentary at the School of Art, Design and Media, Nanyang Technological University, in Singapore.
Ben's film and video productions have received dozens of awards, including a Peabody Award/Shared for the NOVA PBS series and the Academy Award, Best Documentary Short Subject 1978 for his first independent production THE FLIGHT OF THE GOSSAMER CONDOR, the filmed-as-it-happened story of creating the first successful human-powered airplane in human history. Ben's USC School of Cinematic Art's Master Degree Thesis science film MARS MINUS MYTH received the ORBIT Award for Best Science Film in the World 1973 from the Australian and New Zealand Association for the Advancement of Science and THE FLIGHT OF THE GOSSAMER CONDOR film was the co-recipient of this same award in 1979. The Make-A-Wish film STAR WAITERS was selected from 13,200 wishes granted in 2009 for the Make-A-Wish Foundation of America's Infinite Wish Award, its top award for the wish project that best brought a community together to grant a child's wish.
Ben's films and videos have been funded by several non-profit and government foundations, including production grants from the John D. and Katherine T. MacArthur Foundation, the National Science Foundation USA, the National Endowment for the Humanities USA, Public Television Funders, the Polaroid Foundation, the Science Museum of Minnesota, and the Make-A-Wish Foundation of Idaho. Ben was Co-Principal Investigator for the first National Science Foundation production grant awarded for an IMAX film [TROPICAL RAINFOREST] and Co-PI on the 1999 National Science Foundation Conference Grant on Giant Screen Films and Lifelong Learning.
Ben's IMAX films SEASONS and TROPICAL RAINFOREST have been shown in science museum and science center large format theaters around the world, including Singapore, and his documentaries have screened on US Public Television, BBC television, HDNet, translated into 6 languages, and distributed as 16mm film, VHS Video, Digital DVDs, Bluray Disc, and Direct Digital Downloads.
THE FLIGHT OF THE GOSSAMER CONDOR film was completed 37 years ago and is still in active distribution. Since 2007 the film is required in a USA national high school engineering curriculum called Project Lead The Way and THE FLIGHT OF THE GOSSAMER CONDOR 30th Anniversary DVD, made from a 16mm restoration print by the Academy Film Archives, is being used in middle and high schools all across the United States.
The GREEN IS THE COLOR OF MONEY DVD documentary, telling the story of building one of the world's top 50 most energy-efficient, high performance buildings, the Banner Bank building, awarded a LEED Platinum rating by the U.S. Green Building Council, is used by the USA National Appraisers Institute to train appraisers in valuation for high-efficiency buildings. THE FLIGHT OF THE GOSSAMER CONDOR and GREEN IS THE COLOR OF MONEY, as well as the TROPICAL RAINFOREST IMAX film, were produced through Ben Shedd's independent production company Shedd Productions, Inc.
Ben received a 1989 summer long Residential Creativity Fellowship from the Alden B. Dow Creativity Center, Northwood University where he began his EXPLODING THE FRAME research comparing small screen and giant screen imagery and creating a new filmic language for effective giant screen production. This research began for producing IMAX giant screen films and continues today with ever larger high-resolution digital screens and full dome immersive presentations where the edges of the screen frame are outside our field of vision. His research also concerns creating effective science and technology media about very large and very small phenomena seen on displays from handheld size to multi-story high screens.
Ben was the Co-Chair, with Idaho State Representative Jana Kemp, of the 2005-2006 Idaho Film Task Force for the State of Idaho's Department of Commerce. The year-long Task Force developed Statewide Media Strategies to improve media production in Idaho, USA.
Ben is an Magician member of the Magic Castle Academy of Magical Arts, Los Angeles, California and describes his documentaries as "illusions of reality." Throughout his childhood, Ben acted in dramatic narrative films created by his father and learned the language of making movies beginning when he was 7 years old. Ben was an actor and sometimes producer throughout high school and turned to directing during his undergraduate university studies in Radio/Television/Film at San Francisco State University.  Ben has received Distinguished Alumni Awards from both his undergraduate and graduate universities.
Ben has given numerous lectures and workshops, both Academic and Professional, on Film Producing and Production at locations around the world, including as an Academy Visiting Artist sponsored by the Academy of Motion Picture Arts & Sciences. Ben has been a member of Academy of Motion Picture Arts & Sciences since 1981 and is an active voting member of the Academy and it's Documentary Branch. Ben was a member of the Student Academy Award Committee during the years he lived in Los Angeles, California USA.
Ben Shedd has created a set of ethics and guideline standards for his productions in a manifesto which is posted on this website at Production Manifesto.
A closing note from Ben: As my old friend Cinematographer H.J. Brown always said, "See you in the movies, lah!"
08/Dec/2013 Updated 21Jan2014